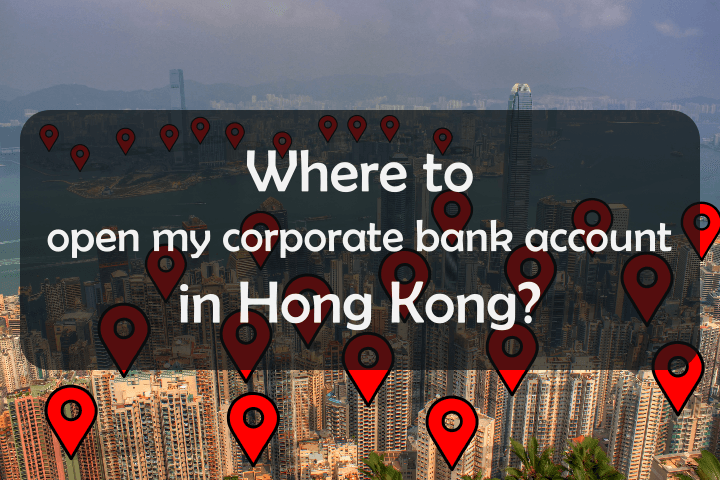 Updated o 11 September 2019: Our Hong Kong business clients are opening their second business bank account in Singapore – the alternative international financial hub to Hong Kong. Some Singaporean banks allow selected business clients to open business bank account remote. Service details are here.

Updated on 16 July 2018: We found that some Hong Kong banks are more open to Hong Kong and overseas companies with non-Hong Kong residents directors and/or shareholders, details are here.

Update on 7 July  2016: HSBC Hong Kong has tightened further its commercial account opening requirement, we have seen that new entrepreneur and startups from either Hong Kong or overseas have been rejected by the bank regarding their commercial account opening. More info is available in this post.
When we come across our non-Hong Kong clients who are looking for ways of doing business in Hong Kong, we are commonly asked this question followed by "How to open business bank account in Hong Kong?"
We select the banks in Hong Kong, they are offering commercial banking services to the both Hong Kong and non-Hong Kong small to medium enterprise (SME).
You may wonder some famous banks in your home country are not listed, very likely that these banks serve special clients or engage in wholesale banking in Hong Kong.
If you are an existing customers of any banks in your home country, feel free to let us know, so we can check if these banks have operation in Hong Kong.
Important reminder to non-Hong Kong residents:
Due to stringent Know-Your-Customer policy of the banks, the future bank account owners (i.e. major company directors, shareholders, and account signatory(ies)) must be physically present in Hong Kong to take part in the interview with the bankers (titled as Relationship Manager, usually).
Bank interview is a formal meeting, the bankers have to questions every aspect of your application, you will be asked to explain your business nature and model, source of income, member and shareholding structure, etc. Make sure you leave no suspicion to the bankers and do not provide misleading or fault information.
Some sort of businesses are legal in your place of operation, but are illegal in Hong Kong. You are welcome to leave message to us, and we can check this matter for you in advance.
Nationality of the business owners and place of incorporation of your corporation are matter. If applicants are originated from or closely related to the countries which are somehow perceived as "high-risk", application are likely to be rejected. No banks admit the list of high risk country exist, but we observed that some name of countries will trigger the FAIL button, when the countries are named as noncompliance with global AML/CFT standards.
Never go for walk-in application of your corporate bank account. Although the banks ave excessive branches, most of them are offering only retail banking services. You have to contact the bank and make appointment, so the bank can assign a banker to follow your application.
Avoid leaving bad records in banks. Once your application of account opening  officially begin, everything you have submitted to the bank are kept for future reference. If your application is rejected, you will leave a record which will degrade your future application in the same bank. Seeking help from us before you contact the bank, our bank account opening intermediary service can study your application, at least avoid all the difficult banks and increase your chance of successful corporate bank account opening.
General list of Hong Kong banks serving non-Hong Kong SME:
Below are links to the banks' websites of their commercial banking services. Firstly, you may look for online form about apply or make appointment, if you can't find the form, go to page of Contact Us and reach them by email or phone. We recommend phone calling the banks to schedule appointment for faster services. Majority of local banks reject walk-in commercial applicants of account opening, be sure to schedule your appointment in advance.
You may know details of our Hong Kong corporate bank account opening package, we guarantee to refund (up-to 100%) our service fee regarding local bank account opening arrangement to our clients if no-win.
https://asiabc.co/wp-content/uploads/where-hong-kong-bank-account.png
480
720
Editor and Admin AsiaBC Hong Kong
https://asiabc.co/wp-content/uploads/AsiaBC_Logo_340x156.png
Editor and Admin AsiaBC Hong Kong
2016-04-05 19:01:38
2020-05-25 18:44:39
Where to open business bank account in Hong Kong?