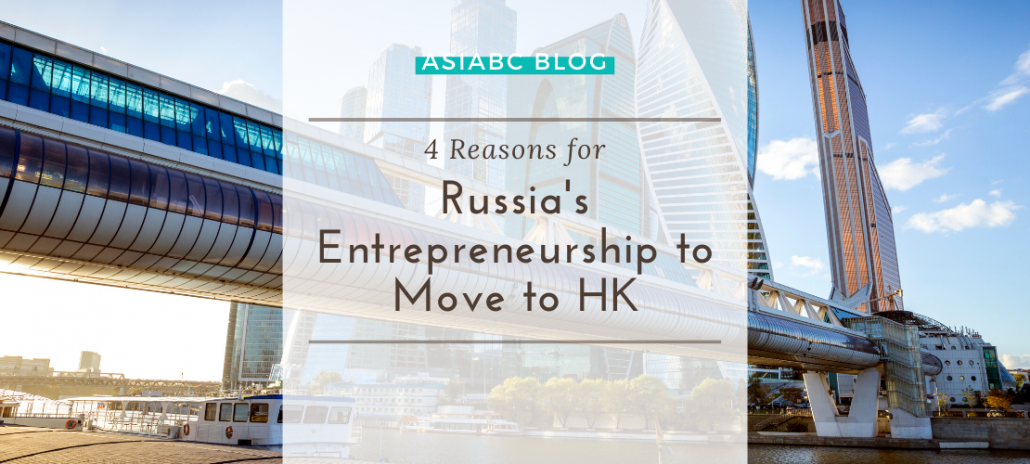 What is Entrepreneurship? Academically, it refers to the formulation of business ideas, which is essentially required to commence a particular venture effectively.
However, common people mostly refer entrepreneurs as business person and entrepreneurship as the process of 'doing business'. It is the core of the continuous progresses of globalization and internationalization within the world economy, thus the pattern of entrepreneurship is evolving to be more globally and has fueled the degree of differences within initiatives adapted while doing businesses in different countries, and these differences can be seen apparently influenced by the cultural, political, environmental and socio-economic aspects of two different countries.
In this articles, the above notion will be examined regarding entrepreneurial approaches in Russia and Hong Kong. And, the potential causes of the increase of the number of Russian entrepreneurs entering Hong Kong in the recent years.
Business Environment in Hong Kong
The business environment of Hong Kong is rapidly changing and has hosted many entrepreneurial ventures. Governing authorities in Hong Kong understand that entrepreneurial initiatives contribute as a major source of economic progress, and thus they have been much concentrated on forming entrepreneurial development programs.
Recent developments in the Asian region have further led to the success of Hong Kong as a successful business base to lead the global market as well as the South East Asian market in the near future. As a neighboring country, various Chinese multinationals have entered into the Hong Kong business network for business expansion in overseas market.
A major advantage of the Hong Kong business environment is that it allows start up businesses to initiate its operations incorporating even the lower investment policies. Hong Kong is also virtuous with regard to its technical advancement strategies in all commercial sectors including maintenance and logistics, it also acts a boost to the entrepreneurs within the region.
Entrepreneurs of the 21st century have also been arguing that international business practices is highly remarkable in Hong Kong because of its fair trade policies and legal corporate framework that further helps to provide a global business platform towards facilitating the entrepreneur's business line up. Lower entry cost in comparison to other global markets has also been a significant benefit to the entrepreneurs in Hong Kong.
Perhaps owing to these advantages and more, Hong Kong is also considered as an attractive market base for foreign investors too, along with its national entrepreneurs. For instance, compatible Foreign Direct Investment (FDI) rules help to maximize the number of foreign entrepreneurs, as it is beneficial to maintain overall market stability for both existing and new entrepreneurial business networks, the recent development of the region has made Hong Kong the 8th largest economy and also 15th largest in commercial exporting country.
Besides the mentioned factors, legal and political consequences for the same also play a dynamic role to increase the overall involvement of entrepreneurial businesses in Hong Kong. Other potential features affecting entrepreneurial functions within Hong Kong can also be considered as its overall financial strength, which comprises Maximum FOREX Reserve of 344.8 billion US$ (access on June 2015), assuring adequate money market funds during necessities along with a consistent GDP growth rate, defending its currency peg in a stable link to US Dollar at 1 US$ to 7.75 ~ 7.85 HK$.
Business Environment in Russia
Since decades, Russia has attracted a considerable amount of criticism owing to its unique features of the national business environment, which is depended on masculine form of leadership, under strong influences of massive bureaucratic interventions. Its legal structure and conservative attitude have also been criticized as negative affecting the entrepreneurial scope within the nation.
However, there were positive arguments identifiable as well. The Russian business environment has been going through rigorous changes that have created a situation of confusion as to the actual performance of the economy. It must be noted that previously, especially prior to the occurrence of the recent global crisis in 2007-2008, Russia was criticized for its rigid and strict legal form that was intended to allow major control of businesses to be restricted by the bureaucrats of the nation. On the contrary, recent changes have been effective in implying augmenting flexibility within the Small and Medium Enterprises (SMEs) sector, accelerating the number of entrepreneurs within the nation.
Even though increasing, development within the SME sector has been sluggish in case of Russia as compared to other BRICS nations. It is possibly owing to the restructuring of its business environment structure, which has resulted in instability within the economic and social aspects of the Russian business. Under such instability, it certainly becomes more demanding and challenging for business entrepreneurs to foster their operations and gain success in Russia.
Although such changes have imposed only a minimum influence to the progress of national entrepreneurs, involvement of international businesses within Russia has been limited owing to its huge differences from the other generally followed industrial norms in the world economy. It has been mostly due to this disparity that international entrepreneurs, on suspicion of lack of resource mobilization advantages, have withdrawn from entering to the Russian market. This further indicates the limited opportunity for entrepreneurs to innovative new dimensions for their businesses and to obtain advantages of fair competition, which is visible apparently within the international business environment. Arguably, it might be provoked by this particular feature owing to which, in search of better innovation capacity, entrepreneurs from Russia is observed as migrating to other nations, such as Hong Kong, wherein resource mobilization is considered as more advanced.
Comparison between the Hong Kong & Russian Business Environments
The above discussion apparently denotes that the set-up of business environment is quite different in Hong Kong and in Russia. The prime difference can be identified in terms of resource mobilization opportunities, which in turn triggers innovation capacity of the industries along with better growth prospects through fair competition. Overall, it can be argued as depended on the ease of conducting business operations that determine entrepreneurial growth within any nation. When concerning this aspect, Hong Kong was ranked as 2nd as on 2014, with regard to the degree of ease rewarded to the entrepreneurs functioning within the nation and foreign businesses as well. Comparatively, Russia was ranked 92nd as per the survey of 2014 which apparently indicates towards the rigidity and lack of adequate ease that the nation offers to its national as well as foreign entrepreneurs, further inhibiting their progress within its business environment.
With a more critical view to the business environment of both places, Hong Kong makes itself better as compared to Russia. Russian socio-economic environment is majorly based on conventional theories and perceptions, deciphering limited scope for innovation. On the other hand, the business environment of Hong Kong presents wide diversity, accommodating the virtues of globalization and hence, is more preferred for global entrepreneurs.
In addition, the legal constraints required for setting up a business in Hong Kong is comparatively less stringent as compared to that of Russia. When concentrating on the marketing prospects as well, consumer behavior in Russia and Hong Kong differs substantially. For instance, consumer approach in Russia most emphasizes traditional and cultural prospects, limited in terms of acceptance towards something new. Contradictory, consumer behavior in Hong Kong is observed as more open towards accepting global brands and innovative products/services, which increases competitive prospects for entrepreneurs functioning within its business environment.
Reasons for Entrepreneurs Moving From Russia to Hong Kong
The above discussion indicates to the advantages that an entrepreneur can obtain by establishing business functions within Hong Kong, as compared to those obtainable in Russia. The most significant virtues is the ease of business that Hong Kong allows to its entrepreneurs, but which, is available in constraint in Russia.
From a broader perspective, there can be other reasons associated with the continuous shift of Russian entrepreneurs to Hong Kong. One of these reasons can be the relaxation in trade affairs allowed mutually by both the countries to boost their respective trade performances. Through these trade relaxations, economic benefits obtainable by the entrepreneurs become quite commendable that further tends to attract a larger pool of investors or business enterprises from Russia to Hong Kong. Certainly, the question on the movement of entrepreneurs from Russia to Hong Kong and not vice versa, raises certain controversial arguments. Nevertheless, a common factor that can be identified as influencing such a shift of focus can be observed as chained with the economic benefits sought by entrepreneurs, when functioning abroad.
Undoubtedly, the marketability prospects existing within Hong Kong also plays a key role in attracting a large number of Russian entrepreneurs. To be mentioned in this regard, consumer preferences in Russia is highly depended on social factors along with particular industrial factors, making their buying prospects limited within their conventional boundaries. However, Hong Kong offers a broader opportunity set for its entrepreneurs, as the degree of uncertainty avoidance is identified as limited or at least, lower than that of Russia. In addition, Hong Kong can also be regarded as a gateway to the other South Asian markets, which certainly increases its economic virtues in manifolds. As can be thus inferred from these factors, economic benefits for Russian entrepreneurs are comparatively and commendably more for in Hong Kong than that obtainable in their home country.
This leads to the conclusion that the most vital reason for which Russian entrepreneurs are currently observed to move to Hong Kong is the high degree of economic benefits offered by the host country as compared to their home country. It has been in lieu of these aspects that trade relations have also been emphasized between the two nations that would accelerate the benefits entrepreneurs earn by shifting from Russia to Hong Kong.
Conclusions
Drawing inferences from the above discussion, it can be rationally asserted that Hong Kong scores higher as compared to Russia on grounds of its preferences among entrepreneurs. The underlying notion adopted in this article to reach this conclusion, implied that the actions or initiatives taken by entrepreneurs are strongly influenced by the business environment in which, they are supposed to be functioning. Correspondingly, this makes entrepreneurship highly dependent on the factors persistent within the business environments to assure their long run performances and sustainability. The same was also observed in the context of Russia and Hong Kong.
This article accordingly helped identifying that Russia presents more challenges than opportunities for its national as well as foreign entrepreneurs. It is mostly due to the fact that Russian business environment depends on a rigid form of masculine structure with specific legal norms to be followed. Nevertheless, the country can been undergoing changes with regard to its economic structuring that has allowed greater versatility for entrepreneurs functioning within the economy.
However, when compared with Hong Kong, opportunities are more visible than Russia, aimed at offering highest possible benefits to national as well as international entrepreneurs. Owing to these facilities, political and economic trade relations between the two nations have also been empowered substantially, which can also be regarded as a major contributing factor to the recent shifts observed amid Russian entrepreneurs towards Hong Kong.
---
Reference:
Amos, H., 2013. Russian-Hong Kong Trade Booming. The Moscow Times. [Online] Available at: http://www.themoscowtimes.com/business/article/russian-hong-kong-trade-booming/476566.html.
Bruton, G. D. et. al., 2010. Institutional Theory and Entrepreneurship: Where Are We Now and Where Do We Need to Move in the Future? Entrepreneurship Theory and Practice, pp. 421-440.
Chadee, D. & Banjo, R., 2013. Institutional Environment, Innovation Capacity and Firm Performance in Russia. Critical Perspectives on International Business, Vol. 9, No. 1/2, pp. 19-39.
Cheung, C. K., 2012. Entrepreneurship Education at the Crossroad in Hong Kong. Creative Education, Vol. 3, No. 5, pp. 666-670.
Dawson, F., 2014. Why Hong Kong's Entrepreneurial Reputation Is Growing. Entrepreneurs. [Online] Available at: http://www.forbes.com/sites/freddiedawson/2014/06/30/why-hong-kongs-entrepreneurial-reputation-is-growing/.
Ellyatt, H., 2013. Is Russia Too Corrupt for International Business. The St. Petersburg International Economic Forum. [Online] Available at: http://www.cnbc.com/id/100805382.
European Investment Bank, 2013. Small and Medium Entrepreneurship in Russia. EY. [Online] Available at: http://www.eib.org/attachments/efs/econ_study_small_and_medium_entrepreneurship_in_russia_en.pdf.
Gabuev, A., 2015. A "Soft Alliance"? Russia-China Relations After The Ukraine Crisis. European Council on Foreign Relations.
Kelley, D. J. et. al., 2011. The Global Entrepreneurship Monitor. Global Report. [Online] Available at: https://www.uclm.com/profesorado/juanjimenez/GEM-CLM/Global%20Entrepreneurship%20Monitor%20Report%202011.pdf.
Lehtinen, E., 2014. Russian Consumer Behavior and Factors Influencing the Purchase Decision. Saimaa University of Applied Sciences.
McCarthy, D. J. et. al., 2013. A Critical View of Russia's IPO Market: A Sign of Success or a Reason for Caution? Critical Perspectives on International Business, Vol. 9, No. 1/2, pp. 226-242.
Nielsen, 2014. More than Eighty Percent of Hong Kong Consumers Will Engage In E-Commerce for Non-Consumable, Entertainment-Related Products. Press Room. [Online] Available at: http://www.nielsen.com/hk/en/press-room/2014/more-than-eighty-percent-hong-kong-consumers-will-engage-in-e-commerce-for-non-consumable-entertainment-related-products.html.
Peteraf, M. A., 2015. Entrepreneurship, Competitive Dynamics, and a Resource-Based View of Competitive Advantage. The Johns Hopkins University Series on Entrepreneurship, pp. 1-6.
Rong, J. et. al., 2012. A Behavioral Analysis of Web Sharers and Browsers in Hong Kong Using Targeted Association Rule Mining. Tourism Management, Vol. 33, pp. 731-740.
Saeed, M. & Singh. A. K., 2000. The Business Environment In Hong Kong. The Economy. [Online] Available at: http://www.delhibusinessreview.org/v_1n2/dbrv1n2e.pdf.
Sidorenko, T., 2013. The Scope of Economic Cooperation between Russia and China and Future Prospects. Universidad Nacional Autónoma de México.
The World Bank, 2013. Understanding Regulations for Small and Medium-Size Enterprises. A World Bank Group Corporate Flagship. [Online] Available at: https://openknowledge.worldbank.org/bitstream/handle/10986/16204/19984.pdf?sequence=1 .
University of Hong Kong., 2015. Business Information for Hong Kong, Shanghai and Taiwan. Hong Kong – Legal Environment. [Online] Available at: http://libguides.library.cityu.edu.hk/content.php?pid=278195&sid=2294713 .
---
https://asiabc.co/wp-content/uploads/Blog-Banner-4-Reasons-for-Russias.png
500
1110
Editor and Admin AsiaBC Hong Kong
http://asiabc.co/wp-content/uploads/2021_AsiaBC_Logo_Horizontal_200x70.png
Editor and Admin AsiaBC Hong Kong
2015-08-10 18:37:54
2023-09-18 13:29:13
4 Reasons for Russia's Entrepreneurship to Move to HK